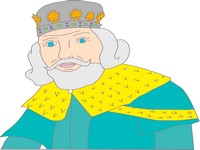 Henri Beauclerc who built the castle of Domfront,
is waiting for you there.
Help him escape by solving
6 challenges
on the 6 elements of Domfront castle!

In 2020:
From the 4th of April to the 2nd of May (Easter holidays) CANCELED
From the 4th of July to the 29th of August
Every Wednesday and Saturday at 3.30 pm
Information:
For families, minimum 3 years old, by teams of 6 maximum.
5€ per team
Starting from the Tourist Office in Domfront
On booking at the Tourist Board
The teams will be awarded by a snack
Game available in English
Because of safety reasons,
the game is still one but had to be rearranged for the summer.
Henri Beauclerc will not be in the castle.
It will be the Tourist Office staff's role
to listen to your answers
after you would have chosen a Captain,
and will give you the next clue,
and so on
...

Furthermore, we are sorry not to be able
to organize our traditional snack for the winners.
However the participants will get a bad of goodies.
Thank you for understanding.